Edith Wharton's Age of Innocence, Book 2, chapter 19, with many thanks to our reader, Brenda Dayne.
If the iTunes feed ever goes down, please head over to the Libsyn site.
NEW October Giveaway
The Sepember Giveaway for Heather's Grounded novel went to Kristine M (paperback) and Tracee T (digital).
You have until October 31st to win a copy of our new book—Sweet and Simple Baby Crochetby Kristi Simpson.
Grounded is out!!!
And getting some very nice reviews which I've been trying to keep up with on the website. (@53 min on Geeky Girls video podcast and at Amazon)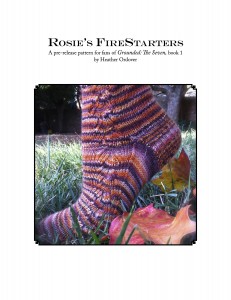 Find out about the new sock patterns based on characters from the book, our KALs, and how you can share your desgins based on the book at the new site. Our first sock pattern went out to pre-orders but is available for you to buy now on Ravlery.
To keep on top of new socks, shawls, and sock puppet theater (you heard me) join the Grounded mailing list!
Lit Links | Sponsors | Crafty News | General News
All Premium Audio options explained here
— current subscriber book, Charles Dickens' (not so) 
Bleak House
 and the first chunk of 
Bleak House
 is 
available in the Shoppe
(it'll be a bit between chunks).
Literary Links of Interest for this chapter:
back to top
Our Sponsors:
Crafty News:
General News:
Booktalk begins at 13:30min
Want a button?
grab the code