Book a Coaching Session
Leт's cooperate
Hello! My name is Heather Ordover and I'm an award winning University and New York high school teacher, mother of two sons, online-education specialist, writer, podcast producer and Cognitive Anchoring coach. My company specializes in media and Audiobooks-With-Benefits™ – treating literature and history with a light touch and serious enthusiasm.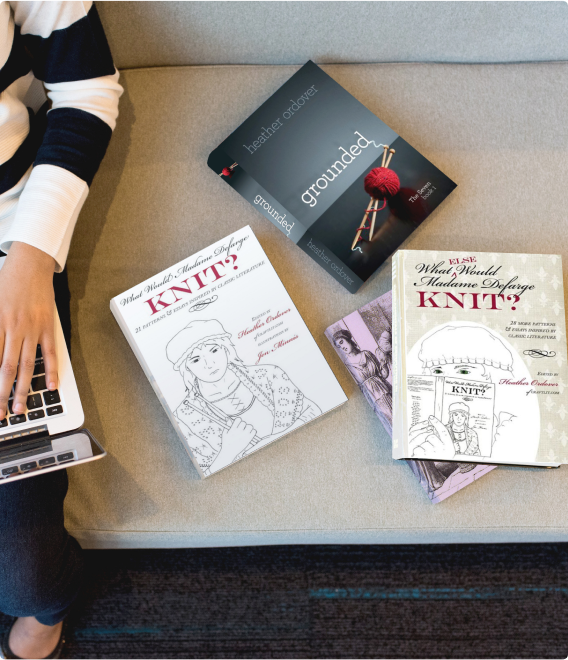 My Books
YA Fiction & Knitting Pattern series
Along with writing for several online masters-level courses in education, I treat knitting, literature, and history with a light touch and serious enthusiasm here in my books What Would Madame Defarge Knit?, What (else) Would Madame Defarge Knit?, and Grounded: The Seven, book 1.
Grounded: The Seven series (seen in Vogue Knitting, Winter 2013-14), I bring young adult literature a set of teen protagonists who are smart, independent, and unique – yet aren't estranged from the adult world. Reviews from adults—and gratifyingly, from teens – have noted the difference from other main-stream teen fare and have become devoted fans of Rosie (and her socks).
With the What Would Madame Defarge Knit? series, I brought together a team of ascendant designers who – with their engaging essays and clever, beautifully wrought knit and crochet patterns – have given joy and inspiration to a devoted cross-section of the crafting world.
I am happy to sign any books in which I've played a role at the end of any class or engagement.
Heather Ordover Books
I travel to read my books and to sign them
Grounded The Seven, book 1
Audiobook Podcast
I record voice overs and audiobooks from my home studio
In addition to writing for education, I have written and recorded essays for Cast-On in my home studio: A Podcast for Knitters and currently hosts my own long-running, online podcast, CraftLit: A Podcast for Crafters Who Love Books and its sister show, Just the Books. My crafty writing has appeared in Spin-Off, WeaveZine, and The Arizona Daily Star.
I have been bringing Audiobooks-with-Benefits™ to listeners every week since 2006, giving commuters, SAHMs, and busy people of all stripes a chance to enjoy the books they know they should have read – but haven't (yet) – in a homespun, friendly format.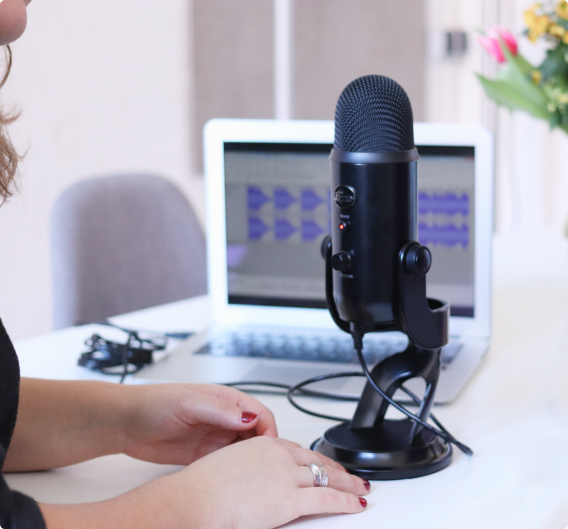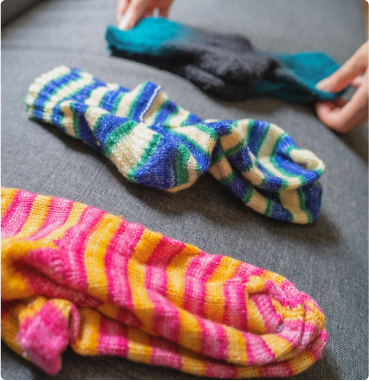 Paävätär sock plaited
The Finnish socks Ordover designed on the cover of Knitting Socks from Around the World use a special plaited cast-on. Students will practice the cast-on while constructing a wristie and leave class with the pattern for the Bohus – inspired wrist warmer.
Materials Needed:
DPNs or two circs or long circ for magic loop, three colors of yarn to match the needles. Sample wristie knit using US6-7 and three colors of light-worsted yarn.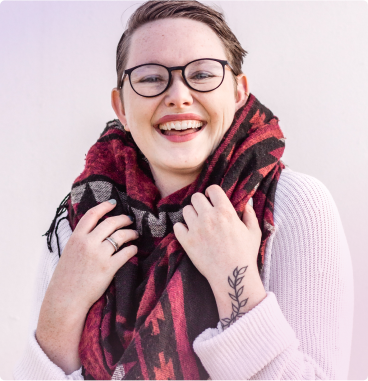 Double Knitting
The Finnish scarf Ordover designed for Knitting Scarves from Around the World is double knit. Depending on your needs, the double knitting class can run from 1-1/2 to 3 hours. Students will leave class with a soap bag scrubbie or a bookmark (or both!).
Materials Needed:
straight needles or circs for knitting flat; DK or light worsted for bookmark; hemp or linen, for soap bag scrubbie.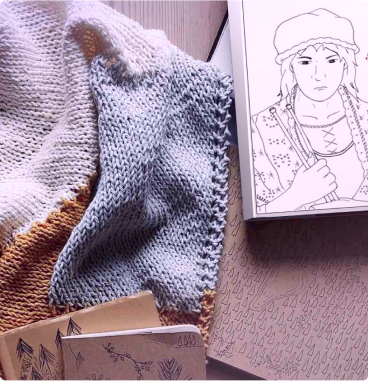 Shawl Design
A class dedicated to the construction of the Defarge Stole from What Would Madame Defarge Knit? This class will leave participants with a lacy bookmark and a new way to construct directionally dependent, rectangular shawls without grafting.
Materials Needed:
24-40 in circ for knitting flat; lace, fingering or DK needed for bookmark.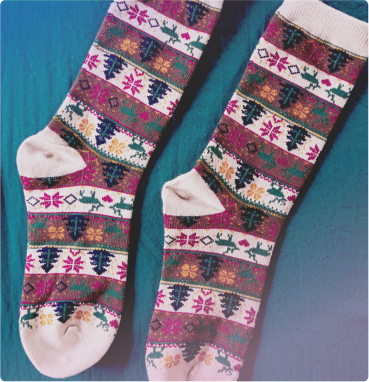 Sock Heels Workshop
This course teaches at least six heels. Knitters leave armed with a set of worksheets that will allow them to substitute virtually any heel into any sock they ever knit from that point forward – guaranteeing a perfect fit. This class can be tailored as needed.
Materials Needed:
there is homework that needs to be done before the class – little cuffs and some cuff-heel-flaps to prepare for the different turns and gussets. Details will be provided.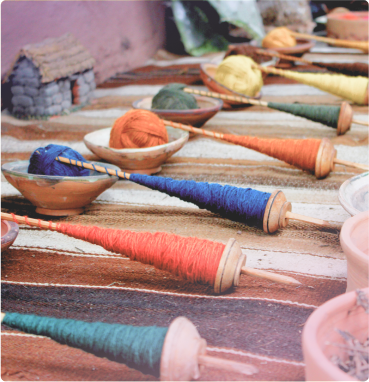 Specific Techniques
Ergonomic knitting:
1-1,5 hours
Fixing mistakes in knitting:
1–3 hours (3 hours if there is a practicum where students bring their "design elements" they wish to fix).
Specific cast-ons or techniques:
by request.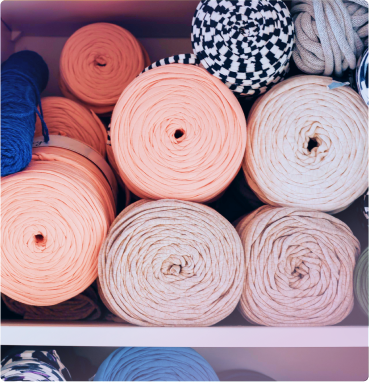 Knit Companion Instructor
Extensive cource:

Certified Knit Companion Instructor
Slow and easy program: three 2-hour classes spread over several weeks.
Over time: two 3-hour classes with a two week break between.
Fast and strong: full day. Get your beauty sleep beforehand.
Tips and tricks and Knit Companion.
"Walk in" help are also available. Cognitive Anchoring Training
training about benefits of automatic-hand-activities
Finally there is solid research being done on the topic of Cognitive Anchoring and the benefits to attention and memory derived from engaging in simple, automatic behaviors like knitting and doodling. I travel around the country, inspiring meeting-goers, students, military veterans, and families of ADD children to pick up the needles, hook, or pen, and improve their memory and happiness.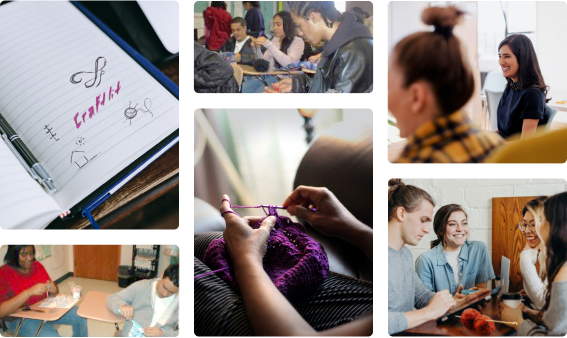 Never again will you be forced to blushingly put away your knitting when a supervisor looks down upon you and says, "When you're ready to pay attention…" as though you'd been cracking gum and telling and off-color joke.
Oh, no. My talk on Cognitive Anchoring will give you the data you need to fight back and proudly hold up your sticks and string at meetings, knowing full-well that you're remembering nearly 30% more than the poor slob who's bored bored bored next to you.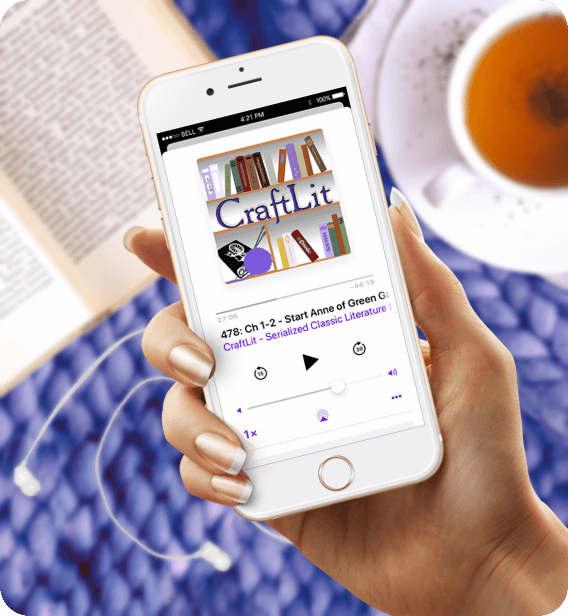 Never Miss a Show Again!
Subscribe & Listen
Sign up to get the latest, greatest news and
episodes of the CraftLit Podcast!